Hi! My name is Paweł Dembowski, a member of the Curse/Gamepedia Wiki Team.Thanks for the contributions! I'll gladly assist you if you need any help with the wiki. :) VaultAusir (talk) 22:36, 26 April 2013 (UTC)
Wallpapers Re-Worked from Arnie's Art
[
]
Hey Gud, I just saw the fan-wallpapers you posted; really awesome! The Einartoft one must have taken quite some time to pull together!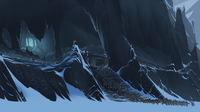 I made similar efforts with the Grofheim-on-Fire and the "Last Scene" (dream-world trees+boat+moon/sun) in the past, but never gotten to something satisfactory. Perhaps I'll post them once they're done.
--Aleonymous (talk) 10:54, 21 April 2014 (UTC)
Thanks, I have a couple more that need to be uploaded still. Hopefully we'll be able to really expand both this page and the fan art page eventually. -Guðmundr (Talk) 22:17, 21 April 2014 (UTC)
Page layout
[
]
Greetings! I am another member of the Curse wiki team. Looking at what you are trying to do on the hero pages, I have a suggestion for a layout that might work better for you given the vertical images you are using. Please check out my user page. The box could easily be converted to an infobox template that could be used for each hero. --Wynthyst (talk) 23:26, 27 April 2013 (UTC)
Unit infobox
[
]
Hi there, i'm yet another member of the Curse wiki team. I've made you an infobox for the units based on the layout you made for the Bowmaster. If there's anything you don't like about it, it can easily be changed, just drop me a line! I've done a test also on the Strongarm page. — Game widow (talk) 13:23, 29 April 2013 (UTC)
the new templates are as follows: Template:RangedUnit, Template:PromotedRangedUnit (renamed original infobox), Template:MeleeUnit and Template:PromotedMeleeUnit — Game widow (talk) 22:00, 29 April 2013 (UTC)

After a bit more thought, i think i can do this with a single template. I'll let you know, but if it works, we'll go back to just calling it "Unit", there will just be 2 extra fields (type which can be "ranged" or "melee" and promoted which will be just a yes/no field. — Game widow (talk) 22:29, 29 April 2013 (UTC)

I do believe i've succeeded in folding all 4 variations of the template into one (Template:Unit). And i've tried a couple of test cases you can check in my sandbox. So feel free to use the multi-purpose template or the individual ones (I also changed the ability icons to link to the relevant parts of the unit pages, but that code relies on the formatting being consistent). cheers! — Game widow (talk) 00:37, 30 April 2013 (UTC)

I see you've found the change and fixed it up the way you wanted it. Nice work :) — Game widow (talk) 17:10, 7 May 2013 (UTC)

I think the second improvement is now operational. — Game widow (talk) 17:45, 7 May 2013 (UTC)
Notifications
[
]
I just found out why i never knew you'd left me messages on my talk page .. apparently googlemail marked them as junk. Sorry about that. — Game widow (talk) 16:48, 8 May 2013 (UTC)
Template
[
]
Hi, good to see you active :). Can you edit UnitSP template, so it allows to have two active abilities instead of active and passive? Thanks Kuba
Introducing myself as the new Wiki Manager
[
]
Hi, this is just to let you know that I am taking over as your Wiki Manager. Feel free to contact me if you need anything.